Test Case Impact Analysis with KTern's Digital Mines
Introduction

KTern uses the test case repository of the system to analyze the test case and point out the necessary cases which has to be tested based on the impact which can be made, the platform classifies the test cases into :

1. Fit View

2. Gap View

Test Case Impact Analysis

Navigation

Navigate to KTern's Digital Mines to access the Release impact window.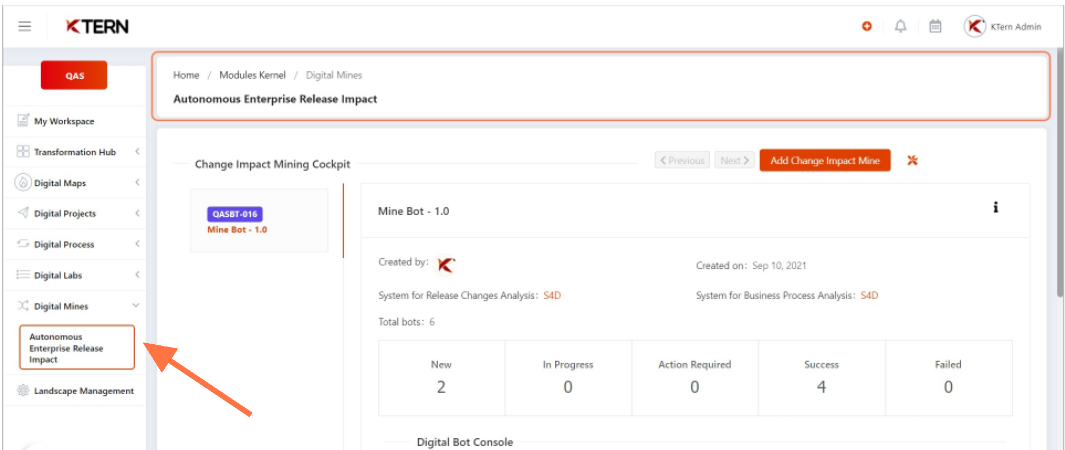 Digital Bot Console

The Digital bot console represents the sets of simulation bots which have performed the analysis and their respective statuses.

The Bot console displays the :

1. Bot Id

2. Name

3. Duration

4. Status

5. Info & Launch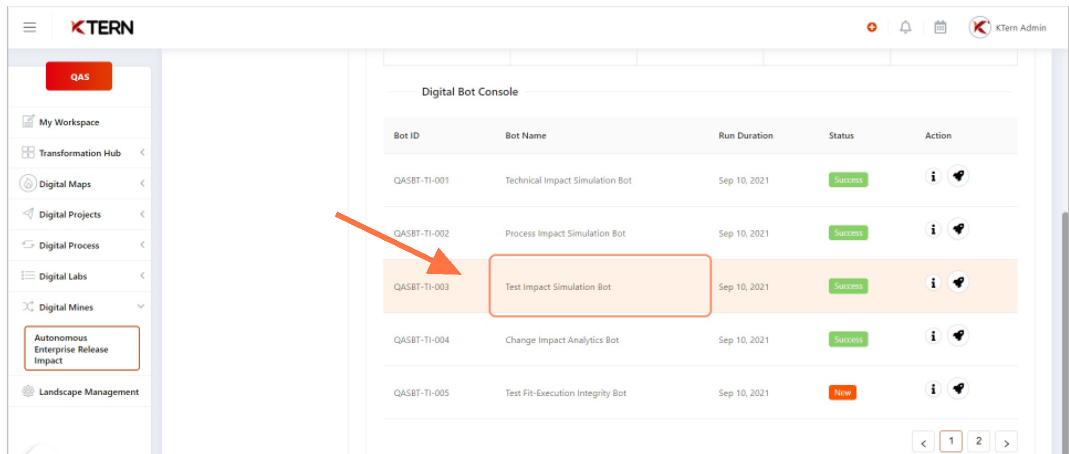 Bot Launch

Select the "rocket" action button to launch the bot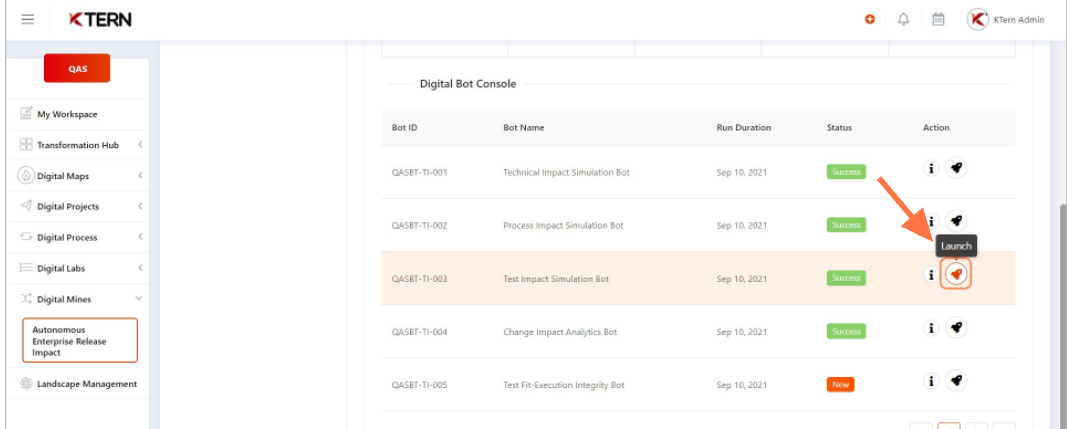 By default , the platform takes the user to the change Impact analysis. Select "Test Impact" from the analysis console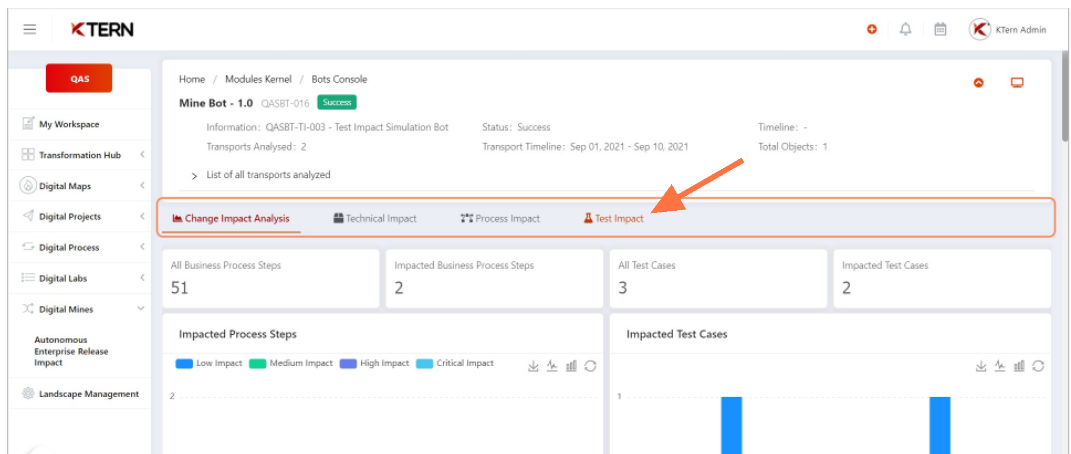 Test Cases

Fit View

Once the Impact mine is launched in the quality system, the mine analyzes all the test cases from the test repository and classifies those cases under the Fit View.

The platform provides the following details about the test cases :

1. The Test ID

2. The Test Case

3. The data-set the test case belongs to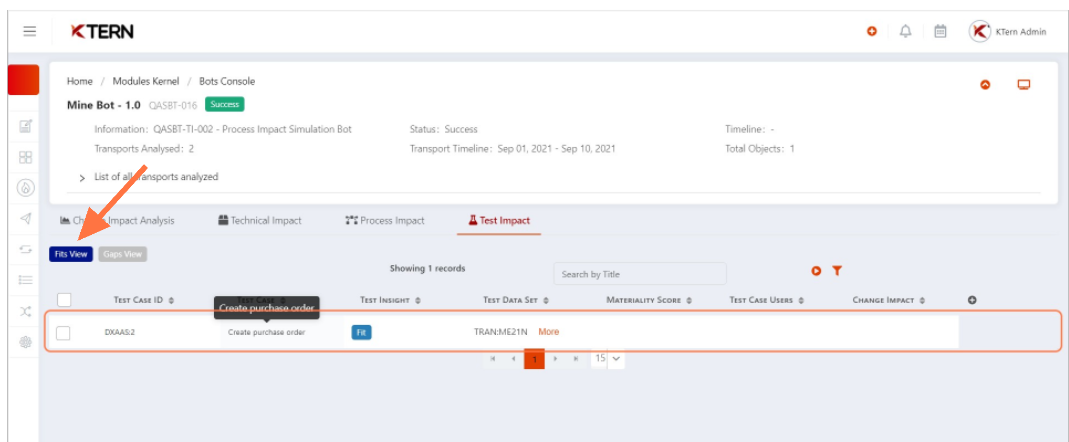 Gap View

The KTern's intelligent mining bot creates new test cases which prompts the stakeholders to test the same known as Gap View.


These test cases helps the user to cut cost and time effort to test the transactions based on the impact.
Test Requirements

The platform allows the user to create new execution bots to test out the new cases.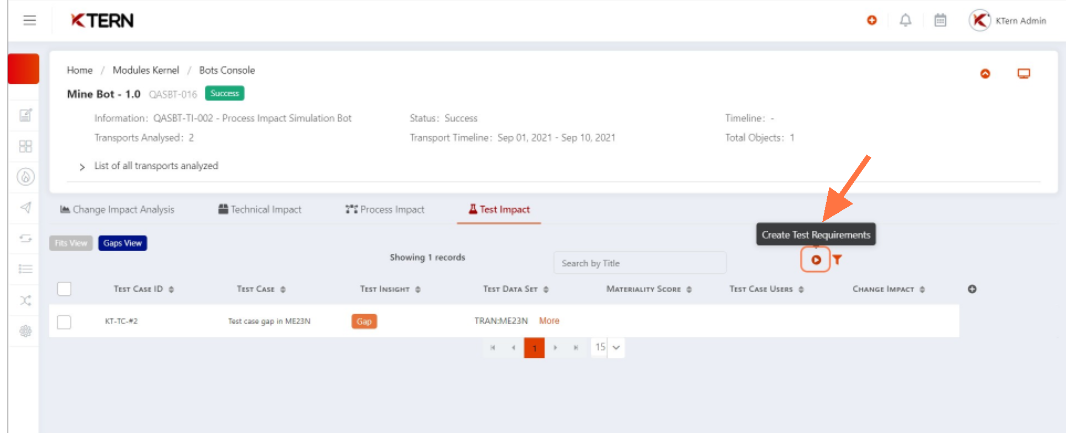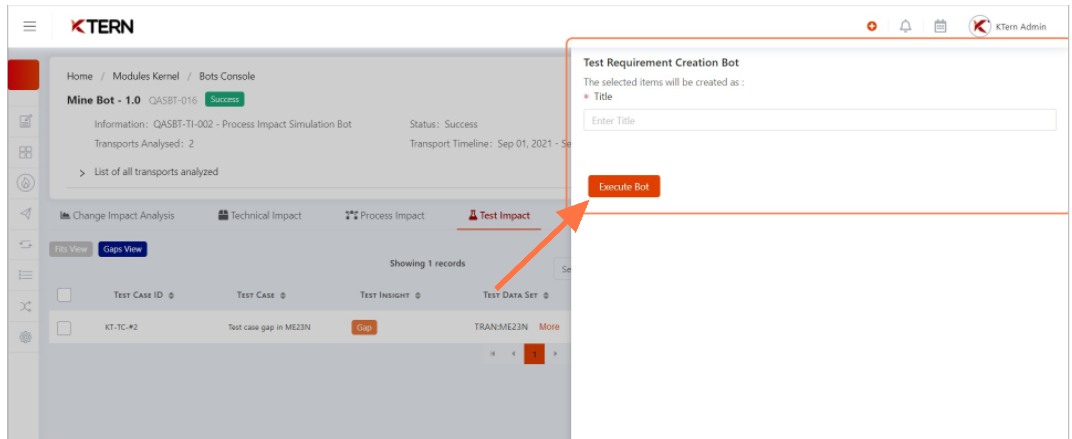 The Gap view test cases increases the efficiency of system under impact analysis
Related Articles

KTern's Digital Mines & Process Impact Analysis

Introduction The analysis assesses the proposed or imagined change, intricately, in order to recognize the certain components that might need to be created more efficiently, would need slight modifications or, have to be disposed of. further, it ...

KTern Digital Mines and Technical Impact Analysis

Introduction The analysis provides a spot-on comprehension of the implications of, a change proposed, or imagined, very accurately. It results in helping the teams in forming consciously informed business decisions, without any discrepancies on, as ...

How does KTern report the Change Impact Analysis?

Introduction Impact analysis is a major featuristic aspect of the prerequisite process of conscious management. The analysis provides a spot-on comprehension of the implications of, a change proposed, or imagined, very accurately. It results in ...

How to access Change Impact Mining with KTern?

Introduction KTern improves the approach of change impact analysis by decreasing the time of analysis, intelligently managing the test cases and also provides a detailed report on the entire impact analysis with respect to the stakeholders, the type ...